HOKKAIDO's WOOD
The latitude zone spanning from 41 to 46 degrees, which includes Hokkaido, is blessed with abundant temperate hardwood forests. Particularly, the Hokkaido Daisetsuzan mountain range is a treasure trove of high-quality hardwoods. The rich temperate hardwoods in this region offer exceptional materials for Doto-Store's wooden products. By using these resources thoughtfully, we can create environmentally-friendly, long-lasting products that align with our vision of making the world a better place through exceptional design. Let's continue our collaboration with wood suppliers and factories to explore how to maximize the potential of these materials.
WALNUT 黑胡桃木
ABOUT WALNUT

Features Over Time:

Changes from a deep tea color to a warm gold hue with use, enhancing its natural shine.

Description:
Black walnut wood is one of the world's most sought-after hardwoods, often likened to the "Rolls-Royce of furniture woods." It's prized for its unique texture and distinctive "ink flow" grain patterns. Because it's both rare and beautiful, it comes with a higher price tag.

The wood's calm color tones and stunning grain make it a perfect fit for any interior, whether you prefer a classic or modern style. Black walnut grows slowly in harsh, cold conditions, resulting in a wood that's both sturdy and lightweight. It's easy to work with and finish, and it resists warping and deformation.

The wood's heartwood can vary from deep tea colors to purplish-black or reddish-purple hues, creating a diverse range of looks. It's not just great for making furniture like chairs, tables, and cabinets; it's also a popular choice for high-end car interiors. Black walnut has been a cherished wood for centuries.

This exquisite wood is ideal for adding a touch of luxury to your home or car interiors. Shop now to discover the beauty of black walnut wood!

名列於世界屈指可數銘木之一,被稱做「家具材中的勞斯萊斯」。

黑胡桃木擁有獨特的觸感,擁有「墨流」波紋的木紋,由於有著美麗的花紋再加上能採收的量相當稀少,因此在市場上通常以相當高的價格進行買賣。

沉靜的色調與美麗的木紋能醞釀出獨特的氣場與厚實感,不論是古典或現代風格的室內空間都能互相調和。

由於黑胡桃木生長緩慢,在嚴寒的環境中生長而成,因此材質堅硬有韌性,但同時相當輕巧,具有容易加工處理以及塗裝的特性。

再加上經過加工後不易彎曲變形,因此常用於製作來福槍的槍托或樂器等。

心材除了有深茶色,有時也會顯現出紫黑色或是赤紫色,從邊材到心材部分描繪出的漸層色彩,形成了豐富的表情。

不只可用來製作椅子、桌子、收納櫃等等的家具,也常作為高級車內的木飾板材料,是自古以來最受歡迎的木材之一。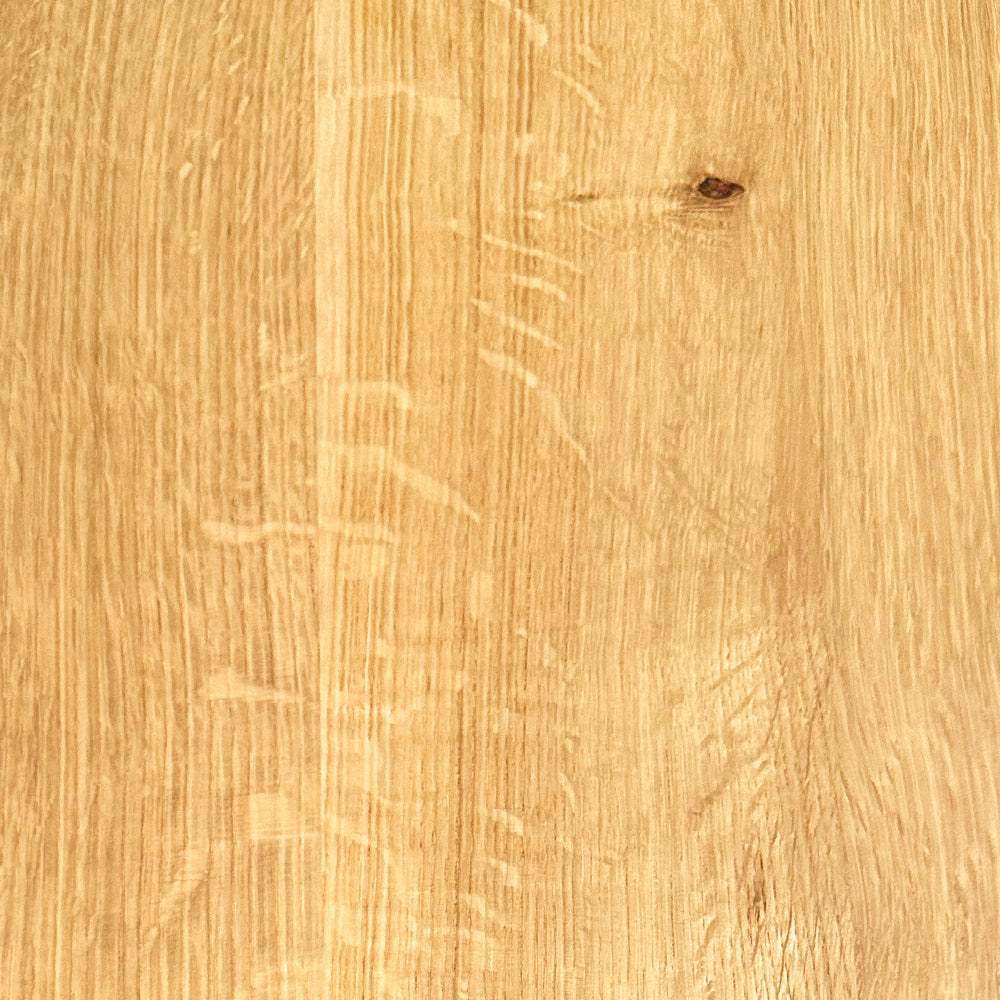 HOKKAIDO WHITE OAK 楢木
ABOUT HOKKAIDO WHITE OAK

Features Over Time:

Starts lighter than regular oak, gradually turning into a gentle golden hue.

Description:

Discover Hokkaido White Oak, also known as "NARA," a remarkable hardwood. It thrives in Hokkaido's unique climate, with cold, dry weather and fertile soil providing the perfect conditions for its growth.

Hokkaido White Oak stands out with its robust character and distinctive wood grain, often resembling the stripes on a tiger's back, shimmering with a subtle silvery touch. This wood is among the most precious and highest-quality hardwoods. It was once known as "Japanese Oak" and commanded top prices in the global wood trade.

Today, Hokkaido White Oak is a rare find. Only local Hokkaido manufacturers have the privilege of sourcing this wood. A few Hokkaido furniture brands still use it, ensuring that their products are 100% Made In Hokkaido.

Embrace the rarity and beauty of Hokkaido White Oak (NARA) in our selection!

由於北海道的氣候長時間處於寒冷和乾燥,而且土壤肥沃,非常適合橡木生長。北海道白橡木擁有壓倒性生命力,木紋當中會出現閃著銀色光輝、被稱為「虎斑紋」這種像是老虎背中的線條木紋。

在眾多廣葉樹材中,以北海道產的白橡木(楢 NARA)為最珍貴、最高等級的木材,北海道產的白橡木過去曾有輸出至世界各國的輝煌時期,並以「日本橡樹(Japanese Oak)」的名稱進行了世界第一高價的木材交易。


現今由於資源枯竭,北海道產的木材幾乎已經沒有在市面流通,只有北海道當地的製造商才有開採和購入北海道產木材的權利,目前僅剩一部北海道家具品牌仍然堅持使用北海道產木材,確保 100% Made In Hokkaido。
HOKKAIDO ASH 北海道水曲柳木
ABOUT HOKKAIDO ASH

Features Over Time:

Starts light, gradually deepening to a rich golden hue.

Description:

Discover Hokkaido Ash, or "TAMO," an exceptional hardwood unique to Hokkaido, Japan.

Notable for its use in the medal cases of the 2021 Tokyo Olympics, this wood thrives in Hokkaido's cold, dry climate and fertile soil.

What makes it special is its distinctive wavy patterns and bold knots, creating a more pronounced color and stronger wood grain compared to oak. TAMO has a warm yet resilient character.

This wood showcases its beautiful grain throughout, with a flexible nature that resists breaking. Its versatility extends beyond furniture to architecture, musical instruments, and sports equipment.

Hokkaido Ash, often called the "Queen of Ash" stands out among hardwoods and adds a touch of mystery to your surroundings. Explore its beauty and strength in our selection!

北海道水曲柳木是北海道獨有的樹種。2021 東京奧運會使用了北海道水曲柳木作為奧運獎牌盒的材料。

由於北海道的氣候長時間處於寒冷和乾燥,而且土壤肥沃,非常適合水曲柳木生長。

它的波狀紋理和木節非常出眾,是北海道水曲柳木的最大特徵。

色調比橡木更明顯,木紋力道更加強勁,帶著溫和的氛圍但同時不乏凜然氣息。

木材的漂亮木紋流遍整體木材,直達心材深層部分,使心材與邊材有著明顯的色調區別。

由於有著「可撓曲」的特性,即使加壓也不易折斷。水曲柳木同時兼具強韌於柔順的特性,可塑性十分高。因此不只有作為家具使用,也廣泛運用於建築物、樂器、甚至式棒球的球棒、曲棍球的球杖這類的運動器材上。 

以相當耀眼的存在感傲視所有的廣葉樹種的水曲柳木,更被讚譽為「白木中的女王」,在北海道的白雪紛飛的樹林中帶著神秘的美感。
DŌTŌ FURNITURE Brand philosophy:
We hope to bring century-old trees from Hokkaido, Japan into our homes,
creating furniture that is more versatile, of higher quality,
and has a longer lifespan, to serve us for a lifetime.
This embodies the concept of 「ずっと使い続ける 」,
creating products that can serve you for a lifetime.
我們希望把北海道的百年樹木帶到進家中,
藉此製作一些更多用途、更高質素、
而且壽命更長,可以服務我們一輩子的家具。

這就是「ずっと使い続ける 」的理念,
創作一件「可以持續使用下去」的產品。
100% Made In Hokkaido Japan